Posts Tagged 'Lee Westwood'
May 11th
2011
Learn about PGA TOUR pro Lee Westwood's first car, worst school subject and Ryder Cup memories. For more, visit PGATOUR.COM.
Nov 29th
2010
The Nedbank Golf Challenge is an annual men's professional golf tournament played at the Gary Player Country Club in Sun City, North West province, South Africa. It is not an official money event for any of the major tours, and like many high profile unofficial tournaments in professional golf it takes place between the conclusion of the PGA Tour in early November, and Christmas. It usually attracts many of the world's highest ranked players.

The tournament is a twelve man invitational stroke play event, with the field being made up of defending champion, the Sunshine Tour order of merit winner, the four major winners and then completed with the top players in the Official World Golf Rankings following the U.S. PGA Championship. In 2006, the tournament carried world ranking points for the first time since 1999.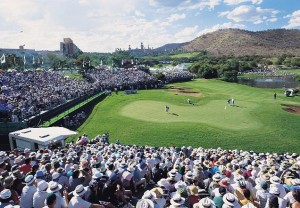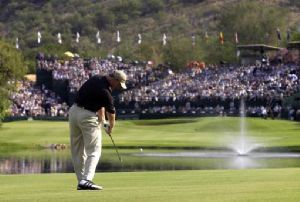 When it was conceptualized by Gary Player and founded by Sol Kerzner in 1981, the tournament was known as The Million Dollar Challenge because of its US$1 million prize fund, with the winner's share being $500,000. In 1987 the event was played on a "winner takes all" basis, with the winner claiming the whole of the million dollar purse. This was designed to overcome any qualms the world's top golfers might have about competing in South Africa during the apartheid era, and it was successful in doing this in many cases. In 1988 the winner's prize was again $1 million, but additional prizes were introduced.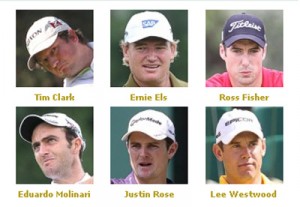 From 2000 to 2002 the first prize was increased to $2 million, but the following year the winner's share of the total prize fund was reduced from more than half to around 30%. The standard winner's share on the PGA Tour is 18% and on the European Tour it is 16.67%. In 2006 the winner received $1.2 million out of a total purse of $4.385 million, so the prize distribution is now not far from the normal pattern for a professional tournament, once allowance is made for the small size of the field. That $2 million first prize remains the largest in professional golf.
This year the Nedbank Golf Challenge hits this world-class golfing estate from the 2nd to the 5th of December, the tournament will be celebrating its 30th anniversary with a total prize money of $5 000 000 with a $1 250 000 for the first prize. But wait, there's more