Quinta do Lago Resort is an exclusive golf and residential estate nestling in nearly 2,000 acres of picturesque countryside and pine forests, bordering the Atlantic Ocean and the Ria Formosa Natural Park in the Algarve, Portugal. Located just a 15-minute drive from Faro International Airport,  is under three hours flying time from most European capitals. Lisbon and Seville are just a few hours away by car.
Quinta do Lago Golf Club has three courses: North, South and Laranjal, offering different challenges. The terrain is gently undulating and several lakes feature in the play of each course. The bunkering is superb. The layouts provide a test for players of all ability levels – the sign of great golf courses. Quinta do Lago golf courses are world class and Quinta do Lago has hosted the Portuguese Open 8 times.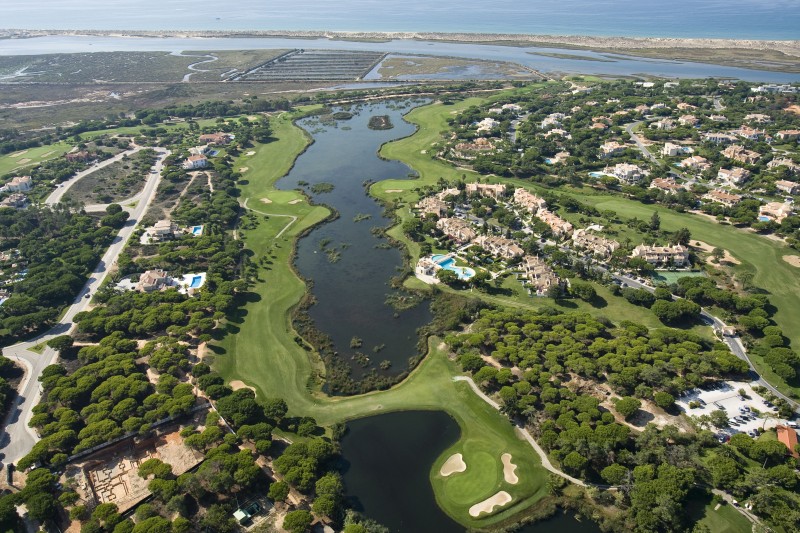 The South Course
Designed by William Mitchell from the USA and opened in 1974, Quinta do Lago South Course hosted the "Portuguese Open Championship" eight times; 1976, 1984, 1985, 1986, 1988, 1989, 1990 and 2001, and many other important professional and amateur championships. The favorite of many tour players, Quinta South is a par 72 with 6,500 metres set in a natural setting surrounded by umbrella pines, lakes, wild vegetation and with the stunning Ria Formosa in the backdrop…
Each hole has generous landing areas off the tees and well-defined routing amongst the woodland pines' setting. This layout encourages the average player to hit their drivers, but calls for accurate driving and fairway shot precision to reach the greens in regulation.  The players will discover a good variety of doglegs and strategically well located hazards obstructing the line of play for anyone who strays far from the optimum line. The front nine favour a draw, whilst the back nine a fade from the tee. Holes 8, 15 and 18 are the most testing for the scratch player whilst holes 3, 12 and 17 offer the best possibilities to see more birdies putts.
The North Course
Quinta do Lago North course has two architects. William Mitchell designed holes 1 to 5 and 15 to 18 in 1974. These holes (as with the other course) share a unique character. The terrain is typical of the area: sandy and strewn with pine trees, heather, gorse and wild flowers. Holes 6 to 14 were designed by Joseph Lee with the collaboration of Rocky Roquerome, both from the USA, and opened in 1989. The terrain is superb, sandy and littered with umbrella pines. In the spring, the rough is covered with a blanket of wild flowers. The greens are sown with Penn Bent Grass guaranteeing high quality putting surfaces all year round. Fairways and tees are covered with Bermuda 419 hybrid, which provides year-round, top quality swards.
Quinta North is an enjoyable challenge to golfers of all standards, the natural woodland, pine setting, the combination of undulating greens, well positioned bunkers and water hazards ensure a unique golf experience. Walking off the 18th, the course may leave you with a sense of accomplishment or thoughts for what might have been – but always a longing to address the tee on the first green and do it all again.
embedded by Embedded Video

YouTube Direkt
The Laranjal Course

Laranjal, originally an orange grove, is today a beautiful and totally different golf experience. It is a sanctuary for those seeking the finest in golf and personalized service. Its narrow fairways and well defined greens require concentration and accuracy to navigate this testing route laid out on a rolling and distinctive terrain. It is a par 72, 6,480 meters, with five par 5s, eight par 4s, five par 3s set amongst umbrella pines, cork-oaks and orange trees with a natural water course and 5 beautiful lakes. Penn A4 was selected for the greens to help guarantee good putting surfaces all year round and the Fairways are sown with Bermuda.
"It will be a surprise for a lot of people… it provokes a series of emotions from the first hole to the last. It is about the game and the strategy as well as the aesthetics. Nobody will be indifferent to it", Arch. Jorge Santana da Silva.
embedded by Embedded Video

YouTube Direkt
In the middle of an eternal war, there are people trying to save Kabul...
Barnbougle Dunes Golf Links is a golf course located near the seaside village of...