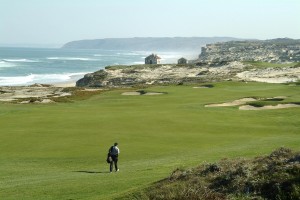 Many people believe that the word 'links' refers to the way the end of one golf hole defines the beginning of the next – rather like the links of a chain.
This is not so but it actually comes from the Old English word 'hlinc' meaning a stretch of flat ground along the seashore. And that is exactly what it is like.
Sea on one side, land on the other (often the houses on the edge of the town form the boundary). It is a naturally occurring terrain usually on a well drained sandy soil.
The parkland course on the other hand is 'purpose built' and is often much more hilly and varied in terrain than the links course. Also, the presence of trees offers a different kind of hazard from those found on a links. Each course has its own type of problems and challenges but the links course probably calls for rather more 'invention' or 'adaptation' in the way the shots are played.…source.