(Reuters) – Miguel Angel Jimenez is embracing the transition to 50 and has set himself the goal of breaking an 87-year-old Ryder Cup record this year.
The pony-tailed Spaniard has already defied Father Time by extending his record as the oldest winner of a European Tour event and now, just days past his 50th birthday, says he wants to be the oldest competitor at the Ryder Cup too.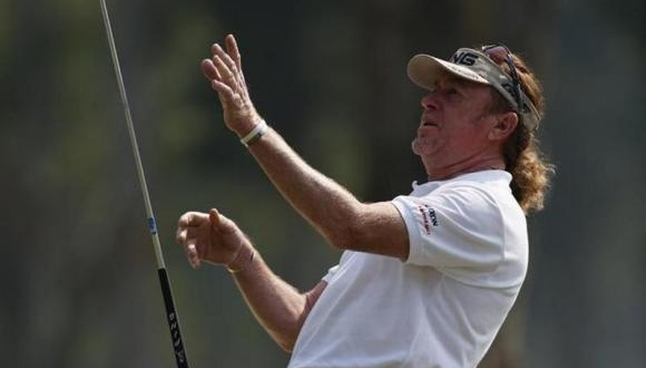 "If I play well, I believe I will be on the team," he told reporters on Wednesday (Thursday in Manila) ahead of Thursday's (Friday in Manila) start of the Volvo Golf Champions tournament at the Durban Country Club, which marks the first event of the new year on the European Tour.
It is an event for which Jimenez qualified by successfully defending his Hong Kong Open title in December, extending his own record as the oldest winner in Tour history.
"It would mean a lot, a lot to me. I'm still breaking records. It would be nice. I broke my own record of being the oldest winner, so it would be nice to get another record," he added.
The oldest Ryder Cup competitor for Europe was Ted Ray, who was 50 years, two months and five days old at the inaugural contest in 1927.
Jimenez last played in the 2010 event, his fourth for the European team, and served as vice captain at the last Ryder Cup at Medinah in the U.S. where Europe's miraculous come-from-behind win was their fifth in the last six contests.
This year's competition is at Gleneagles in Scotland in September.
"I'm going to keep working hard on my game because I would like to be there with the clubs in the hands. If you are not playing well, you don't want to be on the team. It's a lot of responsibility. It means a lot to me and many players and you need to know that you are in good shape."
Jimenez's play-off victory in Hong Kong last month was his 20th European Tour win – 13 of them coming since he turned 40. His record as oldest winner now stands at 49 years and 337 days.
"When I look in the mirror I see the same guy," he said. "He hasn't changed." (source)