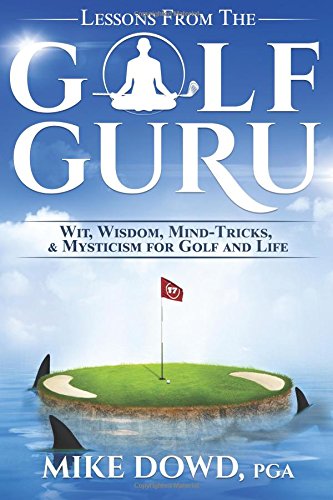 What do Mark Twain, Yoda, Quantum Physics, Neuroplasticity, ghosts, taking selfies, $300 Italian leather shoes, and a good shot of Irish Whiskey all have to do with playing better golf? In truth, maybe nothing at all, but on just the off chance that they do you will find out how in LESSONS FROM THE GOLF GURU – Wit, Wisdom, Mind Tricks, & Mysticism for Golf and Life; a book that is part self-help, part memoir, and part narrative on what is wrong with today's game and what we all can do to fix it.
It is a treatise on faith, hope, love, and optimism as well as fear, doubt, anger, and suffering of Biblical proportions, like that of Job or Chicago Cubs Fans. Mostly, however, it is a book about perspective, and quite possibly the only golf book you need to read even if you're not a golfer. Since its invention by the Scots over 500 years ago, golf has come to be known as the Game of a Lifetime, but to its 60 million ardent adherents around the globe it also often serves as a metaphor for life itself.
This isn't the first book to draw the parallels, nor does it stand alone in offering solutions for the battle that takes place in the six-inch space between your ears. It may be the first, however, that does both in a way that both educates and entertains; making you laugh, cry, reflect, and ultimately walk away with not only a better golf game, but a greater appreciation for the game, your relationship with it, and what it can teach us all about ourselves and life.
Sounds like a tall order for a collection of musings about an ancient game in which you hit and chase a little white ball, but ultimately, this isn't just a collection of lessons for the game of golf. It's a collection of lessons for a game far older. They are lessons for the game of life.
Publication date: September 17, 2015 (source)
About the author – Mike Dowd has been the Head PGA Professional at Oakdale Golf & Country Club in Oakdale, California, since 2001. He is currently serving his third term on the Northern California PGA Board of Directors and is the chairman of its Committee for the Growth of the Game. He has introduced thousands of people to the game of golf since turning professional in 1990 and has coached players who have played golf collegiately at the University of Washington, Hawaii, San Francisco, U.C. Berkeley, U.C. Davis, University of the Pacific, C.S.U. Sacramento, C.S.U. Stanislaus, C.S.U. Chico, Missouri Valley State, Dordt, and Whittier Colleges, as well as on both men's and ladies' professional tours. Mike currently lives in Turlock, California, with his wife Julieanne and their two aspiring young LPGA stars, Isabella and Nicoletta.
Jack Harris, Australian Golfer Extraordinaire is the untold story of one of Australia's sporting...