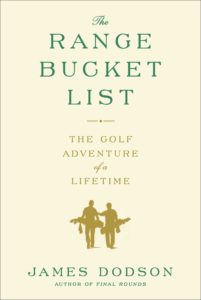 From beloved golf writer James Dodson, author of Final Rounds and American Triumvirate and a two-time winner of the USGA's Herbert Warren Wind Award for best golf book of the year, The Range Bucket List is a funny, intimate, nostalgic journey of self and sport in which the legendary author completes his golfing "bucket list."
Many years ago, when James Dodson was thirteen years old, he wrote himself a list titled "Things to Do in Golf." It included the golfing aspirations of a young boy who had no idea where life would take him.
A few years ago, now in his sixties and one of the most respected golf writers of all time, Dodson rediscovered the piece of paper in an old trunk. Realizing that he had yet to achieve many of his thirteen-year-old dreams, and pondering the things he'd add to the list if he wrote it today, he expanded the list into a golfing "bucket list" of the people and places he had yet to meet and see in the golf world.
In this tribute to the game he loves, Dodson takes readers on a journey around the world and into the lives of characters large and small. From an interesting lunch with Donald Trump to rounds with John Updike and intimate conversations with Arnold Palmer, from scoring a memorable thirteen on a hole at St. Andrews to revealing the real reason The Masters has always been broadcast on CBS, The Range Bucket List is simultaneously an exhilarating armchair adventure and one man's love letter to a game that has fundamentally shaped him and his life, filled with unforgettable characters, untold history, and lots of heart.  But wait, there's more…